Contract Services
Predictive In Vitro Bone Marrow Toxicity
and Stem Cell Hematotoxicity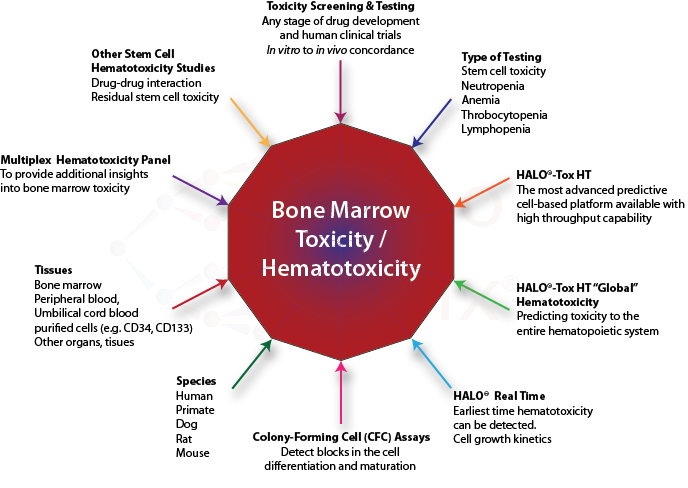 Bone Marrow Toxicity and Stem Cell Hematotoxicity
Assays Used for Bone Marrow Toxicity and Stem Cell Hematotoxicity 

Assay Name
Primary Types of Bone Marrow Toxicity
Equivalent Cell Populations Measured
Pathways Affected
Result

HALO® Real Time

Primitive stem cell lympho-hematotoxicity

SC-HPP

Lymphopoiesis and hematopoiesis

"Global" bone marrow toxicity

(see also "global" assays below)

HALO®-Tox HT

HALO® Real Time

Primitive stem cell hematotoxicity
SC-GEMM
All of hematotpoesis

"Global" hematotoxicity

(see also "global" assays below)

HALO®-Tox HT

HALO® Real Time

ColonyGro™

CAMEO™-4

CAMEO™-96

Mature stem cell hematotoxicity

SC-GEM /

CFC-GEM

Erythropoiesis and myelomonocytopoiesis
Anemia and neutropenia
HALO®-Tox HT
HALO® Real Time
ColonyGro™
CAMEO™-4
CAMEO™-96
Erythrotoxicity

P-BFU / 

BFU-E

Erythropoiesis: red blood cell production
Clinical anemia

HALO®-Tox HT

HALO® Real Time

ColonyGro™

CAMEO™-4

CAMEO™-96

Myelotoxicity

P-GM / 

GM-CFC

Myelomonocytopoiesis: granulocyte and macrophage production
Clinical neutropenia

HALO®-Tox HT

HALO® Real Time
ColonyGro™
CAMEO™-4
CAMEO™-96

Thrombotoxicity

P-Mk /

Mk-CFC

Thrombopoiesis: megakaryocyte and platelet production
Clinical thrombocytopenia

HALO®-Tox HT

HALO® Real Time
ColonyGro™
CAMEO™-4
CAMEO™-96

Lymphotoxicity

P-Tcell and/or P-Bcell /

T-CFC and/or B-CFC

T-lymphopoiesis and/or

B-lymphopoiesis

Clinical lymphopenia
To distinguish between the cell populations detected by HALO® cell suspension expansion assay and the CFC methylcellulose clonal assay, the terms:
SC = stem cell
P = progenitor cell
are used. Colonies are not produced in the HALO®, althugh the same growth factor cocktails to stimulate the same cell populations are used. Therefore, P-BFU is equivalent to the BFU-E erythroid colonies produced in the CFC assay.
 How the Assays Measure Bone Marrow Toxicity and Stem Cell Hematotoxicity
Detection of Bone Marrow Toxicity and Stem Cell Hematotoxicity 

Assay Name
Assay Type
Biological Process Measured / Detected
Assay Marker
Assay Endpoint

96- or 384-Well, high throughput suspension culture. Metabolic viability and functionality

Cell proliferation
Standardized intracellular ATP (iATP)
Bioluminescence

HALO® Real Time

96-Well suspension culture. Metabolic viability and functionality
Cell proliferation
Mitochondrial reduction potential
Bioluminescence

ColonyGro™

Colony-forming methylcellulose functional assay
Cell differentiation
Enumeration of mature cells to identify colony type
Colony number
CAMEO™-4

Miniaturized

colony-forming methylcellulose functional assays

Cell differentiation
Enumeration of mature cells to identify colony type
Colony number

CAMEO™-96

96-well colony-forming methylcellulose functional assay
Cell proliferation and differentiation
Enumeration of mature cells to identify colony type AND standardized intracellular ATP 
Colony number and bioluminescence
 Species Available for Bone Marrow Toxicity / Stem Cell Hematotoxicity Studies
All three assay platforms are available for use with the following species:
Human
Non-human primate (Macaca fascicularis or cynomologus (Cyno) and Macaca mulatta (Rhesus)
Dog
Rat (various strains)
Mouse (various strains)
Cells and Tissues Used for Bone Marrow Toxicity and Stem Cell Hematotoxicity Testing
Bone marrow (all species)
Peripheral blood (human and large animal species)
Umbilical cord blood (human)
Purified stem cell populations (e.g. human CD34 , CD133 cells)
Other hematopoietic organs from animals (e.g. spleen, fetal liver, yolk sac)
 Lympho-Hematopoietic Cell Populations Available for Enumeration
 Bone Marrow Toxicity / Stem Cell Hematotoxicity Panel - Mechanism of Action (MOA)
Besides the basic assays used to determine stem cell hematotoxicity and general bone marrow toxicity, HemoGenix® also offers a number of other assays that can be multiplexed with HALO® and CAMEO™ assays or used individually. These can be incorporated to study mechanism of action. For more information, please refer to the Mechanism of Action Page.

Bone Marrow Toxicity and Stem Cell Hemtotoxicity MOA 

| Assay Name | Assay Type | Pathway | Readout |
| --- | --- | --- | --- |
| (see below) | Residual stem cell toxicity and change in compound sensitivity | Proliferation | Bioluminescence |
| Cell cycle | DNA marker | Proliferation | Fluorescence |
| FlowDiff™ | Hematopoietic membrane expression markers | Characterization / Differentiation | Fluorescence |
| LIVEGlo™ | iATP | Metabolic viability / Mitochondrial Function | Bioluminescence |
| Dye Exclusion Viability | 7-Aminoactinomycin D (7-AAD) / Propidium Iodide (PI) | Membrane integrity | Fluorescence |
| Mitochondrial ToxGlo™* | ATP | Mitochondrial dysfunction | Bioluminescence / Fluorescence |
| Glutathione Assay | Glutathione | Oxidative stress | Luminescence |
| | 8-Oxoguanine addudcts | Oxidative DNA damage | Fluorescence |
| CaspaseGlo™* | Apoptosis | Caspases | Luminescence |
| Annexin-V / PI | Apoptosis / Necrosis | Phosphatidylcholine | Fluorescence |
| GFkine™  | Growth factor, cytokine production / release | Multiple | Multiple |
* Promega Corporation assays 
 Examples of Bone Marrow Toxicity and Stem Cell Hemotoxicity
The diagram to the left shows the dose response relationship between a number of familiar drugs and the effect on in vitro hematopoietic multipotential mature stem cells, CFC-GEMM, derived from human bone marrow mononuclear cells. These results were obtained using HALO®-384 HT. The upper graph shows that Omeprezole, Cyclosporine, Cimetidine and Warfarin have little if any effect on hematopoietic stem cells over the dose range studied. In contrast, Tamoxifin shows partial cytotoxicity at high doses, while Verapamil is cytotoxic at high doses. The lower graph demonstrates that while AZT and Cisplatin produce an inhibition at the highest doses, both 5-Fluorouracil and Mitomycin-C are highly toxic.

Results from HALO®-Tox HT Help Estimate in vivo Starting Doses
The answer to this question is, yes. Not only is HALO® one of the most predictive in vitro toxicity assays, available, but can also be used to estimate drug dosing both in animals and humans. This is because HALO® has been validated against the Registry of Cytotoxicity Prediction Model. The Registry of Cytotoxicity contains a list of compounds for which the LD50 values in rats or mice have been documented. If the LD50 for a group of reference compounds is plotted against the IC50 values obtained from an in vitro assay, in this case HALO®, the points should allow a linear regression to be drawn with specific parameters. This not only allows the assay to be validated as a cytotoxicity assay, but allows an even more interesting aspect to be investigated. This is shown in the table. Using the Registry of Cytotoxicity Prediction Model, it is possible to convert in vitro IC50 values into clinically relevant doses, either in mg/kg or as mg/m2. The results of this conversion are shown in the table on the left. The doses on the far right of the table, are those used to treat various forms of human cancer. It can be seen that the estimated doses for the anti-cancer drugs shown and obtained using the IC50 values derived from HALO® are in the same order of magnitude as those used for treatment. Only one drug, namely vinblastine, is the exception. 
 HALO®-Tox HT "Global" Predictive Stem Cell Hematotoxicity and Bone Marrow Toxicity
HemoGenix® has designed 3 "global" predictive stem cell hematotoxicity/bone marrow toxicity panels.  These 3 "global" panels are:
Panel 1. 4-Population "Global" Panel: SC-GEMM 1, P-BFU 1, P-GM 1
and P-Mk 1.
Panel 2. 5-Population "Global" Panel: SC-HPP 1, SC-GEMM 1, P-BFU 1,
P-GM 1 and P-Mk 1.
Panel 3. 7-Population "Global" Panal: SC-HPP 1, SC-GEMM 1, P-BFU 1,
P-GM 1, P-Mk 1, P-Tcell and P-Bcell.These "global" assays provide a complete analysis and prediction of potential stem cell hematotoxicity and overall bone marrow toxicity.
 Residual Stem Cell Hematotoxicity and Changes in Drug Sensitivity
Residual stem cell toxicity occurs when a drug or other agent leaves some stem cell unharmed or undamaged. If the insult is only administerd once, there is a chance that the system may recover. However, multiple doses may not only damage stam cells that were not initially affected, but may also induce increased sensitivity to the drug on multiple dosing.
HALO® PRT: Measuring Residual Toxicity
There are several permutations, but the basic methodology occurs as follows:
Perform a drug or compound dose response on one or more stem cell populations within the stem cell compartment in a primary in vitro cell culture system.
Analyze the results to determine if residual stem cells remain after the first treatment.
Remove cells treated with different doses from the primary cell culture and perform a secondary, re-plating culture of the treated cells.
Analyze the secondary response for changes in dose sensitivity and expansion potential.


Assays to Determine Predictive Residual Toxicity (PRT)
HALO® PRT is used to predict residual toxicity. An example of a PRT assay is shown. In this example, residual toxicity is determined for Daunorubicin. In the first, primary culture, a Daunorubicin dose response is performed for both the primitive lympho-hematopoietic (HPP-SP) and more mature hematopoietic (CFC-GEMM) stem cells. After secondary re-plating of the cells from the HPP-SP dose response, the results shown in the right-hand graph were obtained. In this case, both the HPP-SP 1 and HPP-SP 2 primitive stem cell populations were detected. The HPP-SP 2 assay detects the ability of the HPP-SP 1 cells to expand. Since Daunorubicin results in eradication of the both primitive and mature stem cell populations at high doses (left graph), it is clear that few if any residual cells will remain as depicted in the right-hand graph. However, it is also clear that the HPP-SP2 stem cell population has increased its sensitivity to the drug at all IC values. 
 The Effect of Drug-Drug Interactions (DDI) on Stem Cell Hematotoxicity and Combination Therapies
The interaction of drugs on the cytochrome P450 system (activation and inhibition) in hepatocytes is the traditional method of analyzing drug-drug interactions. However, these enzymatic reactions often do not correlate with the cellular effects that occur in a tissue. The HALO®-Tox DDI Platform is a one-of-a-kind assay to study the effects of drug-drug interactions. These are relatively complicated studies to perform since two or more compounds have to be titrated against each other.
Related to drug-drug interactions are the effects of drugs used in combination with each other. Such combinations are used in chemotherapy to treat different forms of cancer. Combination drug therapies are often more effective than single drugs. New drugs designed to be less toxic on their own could interact with more conventional drugs to be more toxic and even less effective. Such combinations can be analyzed to help predict unwanted and unnecessary side effects.
Please navigate to the DDI Page for more information.