Contract Services
Immunotoxicity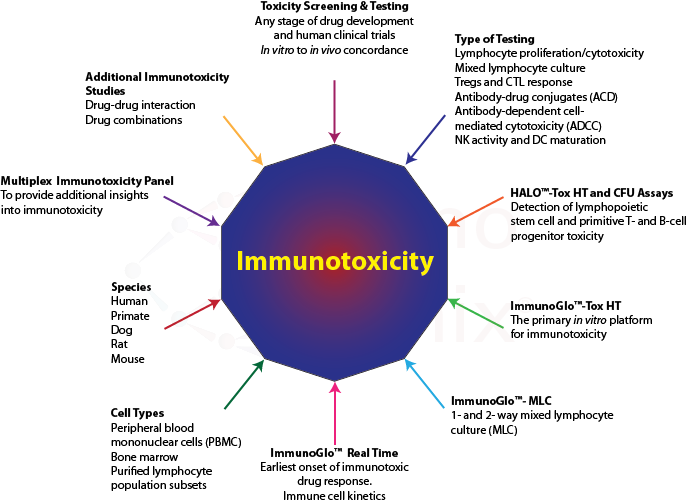 For all immunotoxicity testing services please contact HemoGenix® at info@hemogenix.com, or call (719) 264-6250. Our immunotoxicity services are also available though Science Exchange.
 Step 1: Primitive Lympho-Hematopoietic Stem Cells and Lymphopoietic Progenitor Cells
The lymphopoietic and hematopoietic systems are joined at a very primitive stage of blood stem cell development. One of the cells that is common to both lineages is the SC-HPP or Stem Cell - High Proliferative Potential. This cells is quiescent, but can be affected by small molecules, which take effect once the SC-HPP is called upon to proliferate. Also affected would be the lymphopoietic progenitor cells, namely the P-Tcell and P-Bcell. 
Toxicity to these very primitive and early cells can be predicted using the HALO®-Tox HT and/or HALO® Real Time Platforms, but may also include colony-forming cell (CFC) assays.
 Step 2: Immunotoxicity Testing
In vitro immunotoxicity testing proper, usually begins once the T- and B-cells have been determined and demonstrate the functional characteristics of immune cells. This stage of immunotoxicity testing includes a number of functional tests that include, but not limited to, the following:
Lymphocyte proliferation/cytotoxicity assays 
Mixed lymphocyte culture/reaction (MLC/MLR)
Regulatory T-cell (Tregs) response
Cytotoxic T-cell (CTL) response
Antibody-dependent cell-mediated cytotoxicity (ADCC)
Antibody-drug congugates (ADC)
Immunophenotyping
Macrophage (M1/M2) response
Phagocytosis, oxidative burst (neutrophils), and migration
NK activity 
Dendritic cell maturation and co-stimulation
Cytokine/chemokine production and release
Cell injury and cell death
Extracellular markers of activation
The assays above can be performed using:
Peripheral blood mononuclear cells (PBMC)
Bone marrow (BM)
Purified lymphocyte cell populations
Species include:
Human
Primate
Dog
Rat
Mouse
Not all of these species may be available for particular studies
 ImmunoGlo™ Assays for Immunotoxicity Testing 
ImmunoGlo™-Tox HT is a lytic, high throughput, ATP bioluminescence platform used for screening compounds. It uses the same standardized readout as HALO®-Tox HT, but different lymphocyte culture conditions.
ImmunoGlo™ Real Time is a non-lytic, bioluminescence real time readout to determine the onset of immunotoxicity in a dose-dependent manner and can be simultaeously multiplexed with flow cytometric phenotyic analysis to determine which cell populations are affected by the insult.
ImmunoGlo™ MLC is a 1- or 2-way mixed lymphocyte reaction (MLR) or culture (MLC) in which the stimulator cells can be treated with mitomycin-C (as opposed to radiation) to inhibit their proliferation in a 1-way MLC.
ImmunoGlo™ TCP are assays in which co-stimulators, such as CD3 and CD28, are used to stimulate, detect and predict immunotoxicity.
 Immunotoxicity Testing and Mechanism of Action Panel

Immunotoxicity Testing and Mechanism of Action (MOA) Panel 

Assay Name
Assay Type
Pathway
Readout
ImmunoGlo™-Tox HT
Standardized iATP

T- and B-Cell Proliferation

(Tier 2)

Bioluminescence
ImmunoGlo™ TCP
Standardized iATP

T-cell proliferation with

co-stimulators

(Tier 2)

Bioluminescence
ImmunoGlo™-Tox Real Time (RT)
Reduction potential

T- and B-Cell Proliferation

(Tier 2)

Bioluminescence
ImmunoGlo™-MLC
Standardized iATP

T- and B-Cell Proliferation

(Tier 2)

Bioluminescence
Cell cycle
DNA marker
Proliferation (Tier 2)
Fluorescence
FlowDiff™
Immune membrane expression markers (e.g. CD3, 4, 8, 19, 73)
Characterization / Differentiation (Tier 2)
Fluorescence
LIVEGlo™
iATP
Metabolic viability / Mitochondrial Function (Tier 1 & 2)
Bioluminescence
Dye Exclusion Viability
7-Aminoactinomycin D (7-AAD) / Propidium Iodide (PI)
Membrane integrity (Tier 1 & 2)
Fluorescence
Mitochondrial ToxGlo™*
ATP
Mitochondrial dysfunction (Tier 2)
Bioluminescence / Fluorescence
Glutathione Assay
Glutathione
Oxidative stress (Tier 2)
Luminescence
OxyFLOW™
8-Oxoguanine addudcts
Oxidative DNA damage (Tier 2)
Fluorescence
CaspaseGlo™*
Apoptosis
Caspases (Tier 2)
Luminescence
Annexin-V / PI
Apoptosis / Necrosis
Phosphatidylcholine (Tier2)
Fluorescence
GFkine™ 
Growth factor, cytokine production / release
Multiple (Tier 2)
Multiple
* Promega Corporation assays 
For more MOA studies, please navigate to the MOA page.